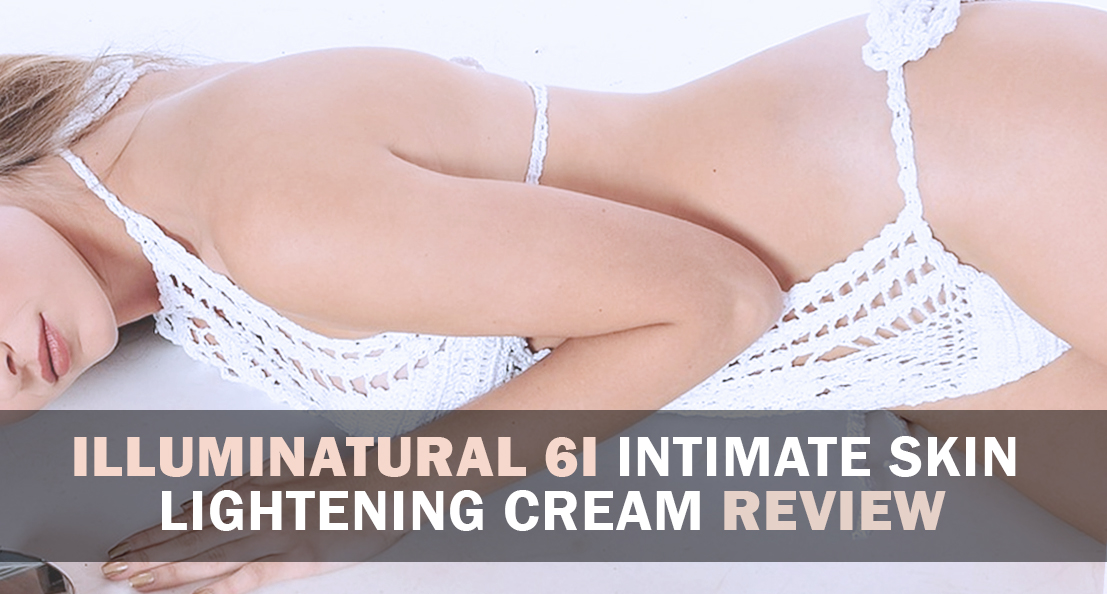 So, you're interested in getting a cleaner, brighter, and whiter bum. Hey, if the Kardashians can do it, so can we!
But you've heard enough painful, embarrassing horror stories about women having intimate bleaching done at salons—you want to do something a bit more private and a lot less painful. So, you've started looking at different at-home bleaching creams online. But how can you know which ones' work, and which ones are duds?
In this intimate bleaching product review, we're going to be taking an in-depth look at Illuminatural 6i lightening cream. By the end of this Illuminatural 6i review, you'll know how the product works, what's in it, and whether or not it's worth spending a single dime on.
What is

Illuminatural 6i?
Illuminatural 6i is manufactured by Skinception, a small skincare label specializing in complexion-improving products. This skin brightening cream is a spot treatment that works for all skin types and treats freckles, sun spots, acne scars, and yes, your nether-most regions.

What are the

Ingredients?
Illuminatural 6i only uses natural and non-toxic ingredients, so there's no risk of coming into contact with dangerous chemical substances like hydroquinone or mercury, both of which are carcinogenic (cancer-causing). Hydroquinone is so dangerous that the Food and Drug Administration (FDA) has gone so far as to ban it in the United States.
But no matter what country you choose to buy from, you should always check the ingredient list before buying any skincare product to avoid irritation or something worse, like an allergic reaction. So, without further ado, the active ingredients in Illuminatural 6i are, in order from highest to lowest concentration:
Sodium lactate: a natural moisturizer and whitening agent.
Magnesium ascorbyl phosphate: a vitamin C derivative that increases collagen production and decreases melanin production.
Niacinamide (vitamin B3): commonly used to treat hyper-pigmentation.
Whitonyl: algae extract that inhibits the function of tyrosinase, the enzyme responsible for creating melanin.
Alpha-arbutin: a natural melanin-inhibitor and safe hydroquinone alternative derived from bearberry plants.
Together, these active ingredients work to slow the body's production of melanin, the pigment that darkens skin, and promote the healthy regeneration of skin cells. Other ingredients include aloe, green tea leaf extract, and milk thistle extract, all of which keep the treated skin healthy and hydrated as should all whitening products (find here the ones we've reviewed).
While most of the product's ingredients are natural and non-irritating, it does contain fragrance, which can agitate some skin types. The smell of the fragrance isn't unpleasant, but it's not exactly pleasant either—if we had to compare it to something, the closest thing would be chocolate. Judging from what we've seen from other Illuminatural 6i reviews, it's a pretty divisive scent—most people seem to either love it or absolutely hate it.
How to Use

Illuminatural 6i:
Using Illuminatural 6i is easy, and the best part of all? You can use it in complete privacy. Because let's face it, no one's completely comfortable with anyone—even a trained beautician—seeing where the sun doesn't shine.
You only have to apply the cream once per day. First, make sure that the area you want to treat is clean and thoroughly dried. Then, rub the product in like you would with any other lotion—it may tingle a bit, but it shouldn't burn or cause you any pain.
Keep in mind that before using any topical beauty product, it's a good idea to do a small allergy test on your hand first. It's an easy way to prevent a lot of problems!
Does It Really

Work?
Now for the part of our Illuminatural 6i review that you've all been waiting for—does this stuff work, or what?
The good news? Yes, it does! Our own findings, along with evidence from other Illuminatural 6i reviews, shows that this product does make a significant difference, especially with small dark spots. Even on sensitive bikini lines, there was little to no irritation, and because you only have to use it once a day, you save a fair amount of money compared to other brightening creams that you're required to use twice per day.
The bad news? It takes a minimum of 90 days to see the product's brightening effects. While some may see results as soon as 6 weeks, most people have to wait the full 90 days before they see any noticeable difference.
Another common problem we noticed that has been mentioned in multiple Illuminatural 6i reviews is that it's almost impossible to wear underneath makeup because of how poorly it dries. But if you're using it solely for intimate bleaching, that shouldn't be an issue!
Despite the success that some users have had with this product, we can't say that Illuminatural 6i is the best skin lightening cream out there. That title still belongs to Amaira, another natural brightening cream for intimate areas. But unlike Illuminatral, Amaira contains no irritating fragrances, and users start to see results in as little as 2 weeks.
Where Can I Buy

Illuminatural 6i?
Interested in giving it a shot? If so, you should know that Skinception Illuminatural 6i lightening cream can't be purchased at any drugstore—you can only get it directly from the manufacturer website. And if it doesn't work, or if you just don't like the way it smells, you can return it for a full refund within 90 days.
While you're at it, we also recommend that you check out Amaira Intimate Lightening Serum, too. Not only does it work faster, but the results are more noticeable than any other brightening cream that we've reviewed. Amaira is also only available from the manufacturer's website, where they also offer a 60-day money-back guarantee.
Intimate skin bleaching doesn't have to be a scary ordeal—it can be as simple and painless as applying moisturizer to your shoulders in the morning. As long as you stick with natural ingredients and do your homework (that means reading plenty of Illuminatural 6i user-reviews!), you can have the bright, beautiful skin you deserve without the risk. It pays to shop smart!
Summary
Reviewer
Review Date
Reviewed Item
Illuminatural 6i Intimate Skin Lightening Cream
Author Rating