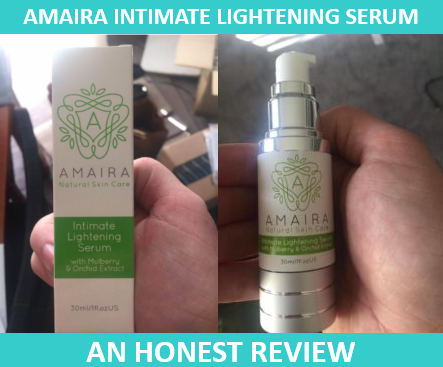 There are tons of anal bleaching creams out there, and not all of them are created equal. The truth is – you do NOT want to mess around with your butt. I mean, you only have one ass, right? So, of course, you want to make sure you're not going down-under with anything that could harm your skin. And most importantly – the thing has got to get results. No point in getting into bed (pun intended) with a product that doesn't actually work!
After doing some heavy research, we found that Amaira Intimate Lightening Serum is one of the most popular brands out there – BUTT – we wanted to try it for ourselves before recommending it to our readers. So, the ultimate question: Is Amaira the best bleaching cream out there? If you want to know the answer then check out our review of the best bleaching creams today.
We tried this popular product for ourselves, and here's what we found. First of all. Science. Read below to find out how this product actually works.
How Does

Amaira

Intimate Lightening Serum Work?
Amaira Intimate Lightening Serum claims that it lightens the intimate areas of the vagina and anus by using natural extracts. The manufacturers have designed it for all skin types since it doesn't contain harmful chemicals or fragrances. On their website they say that the product is specifically designed to be gentle on your skin as it removes any discoloration or scarring. By consistently using the cream on the darkened area, you will achieve a lighter skin tone in 1-2 weeks depending on the severity of the situation. But, either way, you're going to get results once you start using the product consistently. 

The product uses natural extracts which have been used in Chinese medicines for centuries. For example, the Dendrobium Phalaenopsis flower is one of the most effective moisturisers in the world. The product also uses mulberry leaf and root extract to reduce the appearance of fine lines and wrinkles by naturally restoring fibrillin. Orchids are also used in the product because their rich minerals help to repair and protect the skin. This substance softens the skin and fights free radicals that create discoloration and unsightly lines.
Here's how those

ingredients

work to help you get a shiny bumhole:
Dendrobium Phalaenopsis flower extract
Dendrobium Phalaenopsis flower has been used around the world as a soothing moisturizer. The extract of this flower softens your skin cells and allows the active ingredient in the product, mulberry extract, to be absorbed by the skin. This property helps the process of anal bleaching progress faster by making the rest of the ingredients easier to absorb by the skin. Having said that, with the Dendrobium Phalaenopsis flower extract in the mix, you will surely get your results faster than ever. It's also a completely natural ingredient so you won't have to worry about it being harmful to the body. 
Mulberry extract
Mulberry extract has shown to get rid of melanogenesis (melanin production), which causes darkening of the skin. As you get rid of old skin cells, the new ones that form treated with the mulberry extract will have a lighter pigment. Clinical trials have proven that mulberry extract also inhibits tyrosinase activity, allowing your anus and vaginal areas to visibly lighten and match the skin tone of the rest of your body. In addition to the lightening properties, mulberry extract also removes wrinkles and fine lines by restoring fibrillin to sensitive areas.

How to

Use

Amaira Intimate Lightening Serum for the Best Results:
Ok. Time for the good stuff. Does this product actually work to lighten your tender tushy?
I wanted to go straight to the source before trying this out myself, so I spoke directly to the manufacturers at Amaira and asked them how to use the product to get the fastest results. Luckily, they hooked me up!
Here's the sitch. We roped 3 of our friends into this test (thanks ladies!), to come up with 3 case studies. Here's what happened:
Case Study 1: Reached her desired color in 15 days.
Case Study 2: Reached her desired color in 22 days.
Case Study 3: Reached her desired color in 24 days.
Here's the procedure they followed:
Clean the area you want to lighten with a gentle exfoliant (either a scrub or a loofah)

– Be gentle. Make sure you DO NOT break the skin!

D

ry the area by patting gently with a towel.

Apply the cream once in the morning

Apply the cream once in the evening

Continue this procedure until you achieve your desired skin tone.
Teagan got the best results in our test, and was able to get a shiny pink asshole in 15 days. Here's what she says about using Amaira in our test.
To be honest, I was rather skeptical but the results were so quick , I didn't have time to have any doubt. – Teagan, Kansas, Jan 2021.
The test subjects kept the tests relatively simple.
They applied the cream once in the morning and once in the evening.
As simple as that. Pretty conclusive results.

Sarah got the second best results, and was able to achieve her desired skin tone in 22 days.
Here's what she said about her experience:
I give this cream 5 stars, did exactly what it said, in a very short amount of time. – Sarah, NYC , March 2020.
Things we liked:
Easy product application
Conclusive results
Helpful & Responsive Manufacturer
60 day returns policy (test subjects saw results in half this time for any doubters)
Free shipping
Things we disliked:
Relatively small bottles for those who need heavy use.
No 4-6 pack option for those wanting to buy in bulk with greater savings.
The Juicy Part – Does Amaira

Actually

Work to Lighten your Intimate Areas?
We were skeptical, but there's no doubt that this product actually works. In fact, it was a super easy process! No mess, and easy to apply. Everything that you need to know are in the package itself, you don't need to go on the internet to do research yourself.
Surprisingly, Amaira Intimate Lightening Cream fills in a huge gap in the vaginal and anal bleaching market for those who want to try this process at home. It's a product that actually delivers results quickly and safely.
The best part is, that it has a 60 day money-back guarantee, so there's no risk in trying it out. Since our test subjects got results in half that amount of time, we didn't need to use it, but if you don't get results, it's good to know you can get your money back. Just contact customer support and they will give you a full refund, as simple as that. There really is nothing to lose and everything to gain when it comes to this brand. 
So what do you think? Ready to try it out?
Act soon, because prices are currently on discount for the month of December.  
Let us know your results! We'd love to hear how it went.
Happy Bleaching!
Ratings are Based on 899 reviews
Personal Amaira Reviews from Users of Whitening Serum
5 out of 5 stars
Definitely making a noticeable difference!


Pretty happy with the results so far. I rang the company and asked about how often to apply it.  They said daily so I have been.  After a few weeks  i am seeing a lightening of the skin.  Not dramatically whiter but definitely noticeable.  Easy to apply and no issues with my skin.  Not sure for other people.  I will keep applying and see how much white my butt gets , haha.. — — Laurence on March 27, 2020

4 out of 5 stars
I recommend it, it worked for me.


"Girls, it does work. I bought it with the doubt as we all do when it comes to these type of products but it really does help fade those dark inner thighs. My bikini line was very dark. I took a photo the first day I started using it and then a month after and I started smiling because the difference was very noticeable. I'd recommend the amaira lightening serum if you want that dark skin to become a bit more light. It worked for me. The smell is fine and it did not irritate my skin at all. Just be patient and make sure you always wash your skin before applying it. Twice a day if possible for better results."
— Gisselle Plasencia on December 28, 2019

5 out of 5 stars
I decided to try the lightening serum and noticed this morning as I was putting my makeup on that two of the worse ones were considerably lighter


I have tried A LOT and I mean a LOT of skin care products for . I'm 59 years old and I have dry skin and with most people my age who sun tanned I have brown spots. I decided to try the lightening serum and noticed this morning as I was putting my makeup on that two of the worse ones were considerably lighter. I have tried other products but this one from amaira showed visible results. This is a 5 star winner. — Theresa on September 18, 2019

5 out of 5 stars
The cream works!


The cream works, but as far as I have seen it goes about 2 shades less lighter then I hoped for. But still definitely worth and i had no reactions. I bought the product with a lot of skepticism because of the results I received from previous products on the market. Boy was I pleasantly surprised!   — Anthony on July, 2019

5 out of 5 stars
YES! Something that finally works!


I've been using this product for 6 weeks and can already see the results. You can see from my photos that the dark spot edges are starting to disappear. I also must mention that I did an allergy test on my hand before starting to use this on my face (since other people mentioned a rash). No rash appeared on my hand or face. Definitely will be purchasing more of this lightening product to give to my friends and family to try out! — Leslie on March 24, 2019

4.5 out of 5 stars
I used the whole thing pretty quickly. I just got my new bottle and …


I've liked the first bottle and want to get more! A little goes a long wAy. There is just a mild fragrance that is hardly noticeable and is nice. It did lighten my skin. I used it on my bakini area. You do need to use it daily . My skin got a couple shades lighter. Overall I liked it and plan to buy more. — Cassie C Helms on August 2, 2019

5.0 out of 5 stars
So far so good!


Just purchased and began using it today. So far I feel no itching, burning, or anything making me uncomfortable. My skin is also very sensitive so this is a plus. Ill post another update and review later.. Fingers crossed the amaira cream works:)

*UPDATE* 6/17
Still no itching or burning. Goes on smoothly, no issues with the skin. I do notice a slightly lighter complexion in the areas I'm applying it to, but I only use about 3 times a week day and night(because I also use Kojie soap). Since I see no issues I'll start using it everyday, twice a day, to see if I get better results. — Lerie on May 14, 2018

5.0 out of 5 stars
I have to say that I'm really happy with the results


I've been using this lotion for a little over a week and I have to say that I'm really happy with the results. Unlike some of the other writers I haven't had a breakout problem with this, but as with most products I test them on my wrist before using them. The maker recommends that you mix this in with your daily moisturizer, and that tip did definitely work. Keep in mind that a little dab will do ya with this lotion. You don't need to slather this on. Put it on twice a day with your moisturizer, and you'll start seeing the results in about a week. — Mish Lon October 14, 2018

5.0 out of 5 stars
It works!


I have only been using this amaira product for about a week and I see results!! I'm ecstatic because I developed hyperpigmentation along my upper lip and spent the last 3 years looking like I have a mustache! As a girl, it's been so embarrassing. It would always get worse in the summer as I tanned even if I wore sunscreen or sunblock. I didn't want to mess with the chemical skin bleaching agents and I have tried a meriod of other natural remedies for it with no success at all. So I'm super happy this is natural and effective! I would absolutely recommend it to others and will purchase again! — BAtd1220 on July 10, 2018

5.0 out of 5 stars
Great Stuff


As a person with sensitive skin, it is nice to find a product that is gentle on the skin and works. I use this product on dark spots I acquired from sun exposure. I been using the lightening products now for a couple of months and am very happy. — Eric Alan on July 17, 2017
Summary
Reviewer
Review Date
Reviewed Item
Amaira Natural Lightening Serum
Author Rating